Technical blog: Swimming pools - a guide
— 13 Apr 2018 by David Bridges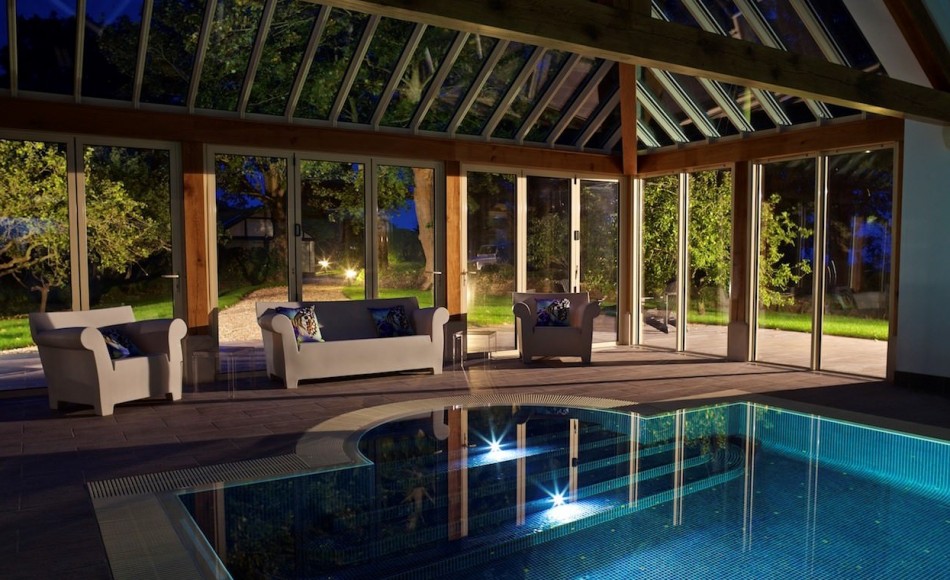 Size of Pool
A good size for a domestic pool is between 8 x 4 x 1.5m and 10 x 5 x 2.4m. Above this, the equipment necessary to maintain the volume of water needs to increase to a size suited to public swimming baths and will be more expensive to run.
Design of Pool Shell
Although it is best to avoid tight radii, the shape of the pool is only restricted by the imagination. For a relatively simple plan form, reinforced concrete tends to be the simplest way of building the pool shell with block work being used as the shuttering. For external pools, a sprayed concrete could offer more organic shapes. A stainless steel or more expensive aluminium prefabricated shell is an alternative option to the concrete structure. Cost may be higher but construction can be quicker and simpler.
There are two options for the waterline of a pool; traditional or level deck. Traditional pools will have apertures built into the pool walls to receive skimmer boxes. A level deck will require an overflow channel formed to the head of the entire pool shell wall to collect water as it is displaced over the edge.
It is worth considering a crawl space around the whole pool perimeter as this can simplify installation of large format duct work and pipework and for future maintenance that avoids disturbing finishes.
Pool Plant and Environmental Controls
When planning to construct an indoor swimming pool, the design of the space surrounding the pool is equally important to get right.
It is normal to design for air temperatures to be slightly warmer than the swimming pool to prevent condensation but also avoid discomfort for pool users as wet skin will be more sensitive to changes in temperatures.
As well as providing a comfortable space for swimmers and other building users, the environmental controls serve to protect the fabric of the building against the effects of moisture and condensation. Usefully, an air handling unit (AHU) can serve to fulfil all environmental control issues and can be integrated with the pool water heat exchanger to recycle heat drawn from the air into the pool.
Water proofing & finishes
Pool liners are a simple and cost-effective solution but if you wish to create a more dramatic aesthetic a fully tanked pool shell can be finished in beautiful mosaic. The proper preparation and tanking of the pool shell should be carried out by specialists to ensure no leaks.
Pool Covers
A retractable pool cover is essential to reduce debris falling into outdoor pools, but they also provide a useful function for indoor pools. A robust, slatted pool cover will limit heat loss and evaporation, reducing energy costs and further restricting condensation within the building when the pool is not in use. Our favourite method of introducing a pool cover is to fit an automatic roller concealed within a compartment at the bottom of the deep end.
If you would like to discuss your swimming pool project or for any more information please contact us.