Planning permission for bespoke treehouses becomes reality
— 12 Dec 2018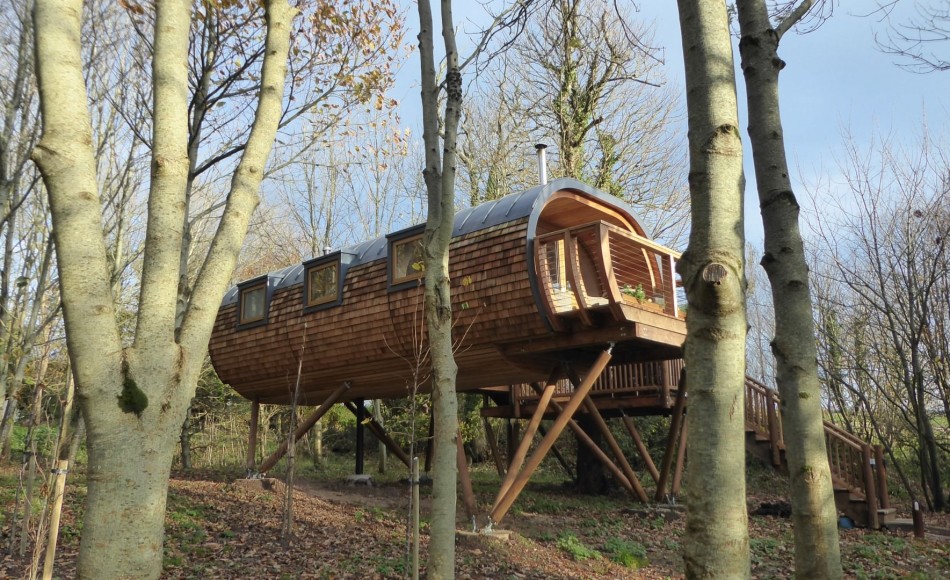 Director John Alexander and Architectural Technician Rick Gilroy had the opportunity to visit a longstanding client last week, and view a project that Jonathan Rhind Architects worked on a couple of years ago.
Pickwell Manor is a Grade II listed house, with origins that date back to the 10th Century. The current Jacobean style house was built in the early twentieth Century following a fire which destroyed the original building. The Manor is run as holiday apartments and in 2016 the owners wanted to expand the business to include bespoke treehouses in the rambling woodlands which surround the house. They approached Jonathan Rhind Architects looking for a firm with the specialist knowledge to gain planning permission for the treehouses in the grounds of the Manor.
Not only were the treehouses to be sited within the curtilage of a listed building, but the site is also in a Coastal Preservation Area and an Area of Outstanding Natural Beauty (AONB). Following extensive consultations with the local planners, we were able to obtain consent for the treehouses, ensuring that the treehouses and the necessary services were carefully sited so as not to damage the woodland.
Jonathan Rhind Architects were familiar with the site from work we did there previously on similarly gaining planning permission and Listed Building Consent for the installation of solar panels and an external biomass boiler within the listed walled garden. The logistics of fuel supply for the biomass system had to be carefully planned so as to minimise any adverse impact on the site.
The treehouses which were designed and built by specialist local firm Bower House, are sustainably run, with power supplied by the solar panel array in the walled garden. They are now available for holiday rentals, please see the Pickwell Manor website for more information.
Jonathan Rhind Architects specialise in gaining permissions for work to properties which are in difficult or controversial sites, or such situations as listed properties, AONB and Conservation Areas. Please get in touch to discuss your project.