Lupton House - Italianate garden tender awarded
— 26 Sep 2018 by Martin Sturley-Hayes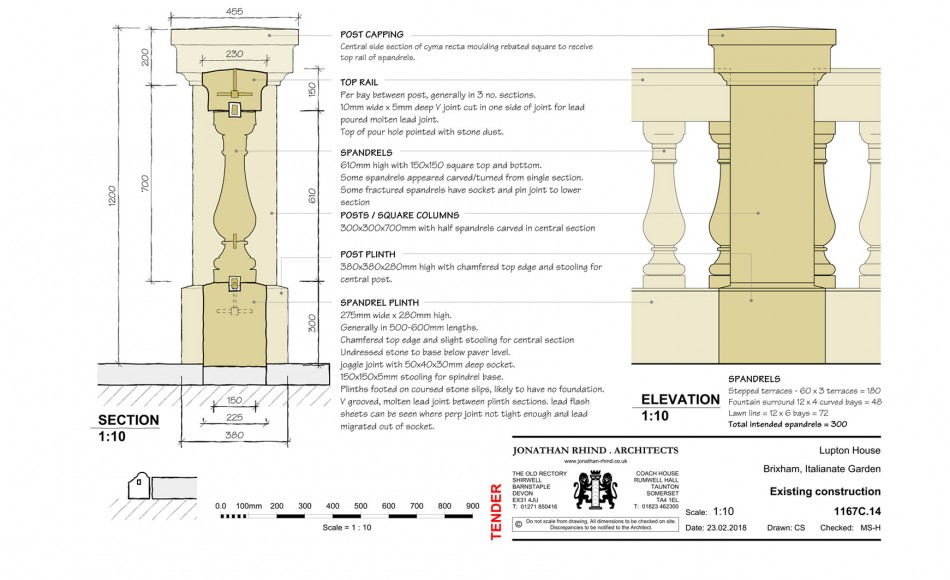 Following on from a condition survey we carried out earlier in the year at Lupton we are pleased to be progressing with plans to trial repair techniques to this rare example of an Italianate Garden.
Designed in 1841, the garden has a geometric design of balustraded walkways and terraces. The design is unusual, in that the terraces of the garden have direct access from different levels of the house. It was also innovative in the late 1820s for the fashionable use of cast iron detailing – in the fountain, finials, chains and a low fence slotted into the stone piers of the outer boundary.
Since its construction c.177 years ago the garden and associated house has had various uses, from the American armed forces to three schools, and the garden features are in various stages of loss, erosion and inappropriate previous repairs. Paving, curbing and balustrade plinths have suffered from differential movement caused by plant roots, fountain water washing away subbase, and minimal and narrow footings.
The historic significance of Lupton's Italianate garden is its symmetrical and repetitive design which is currently distilled by the loss of features.
Jonathan Rhind Architects will be working with specialist conservation contractors, Williams and Burrows with grant funding from Historic England to trial repair techniques to reduce the rate of further decay and loss; and to introduce new carved stone features to return symmetry thereby completing the garden, and returning it to its intended design.
The Garden is currently administered by The Lupton Trust, who's aim is to return the garden and the Grade II* listed Manor House which sits in the grounds, into a space for the community of Brixham to use and enjoy.
Jonathan Rhind Architects are delighted to be involved in this exciting project and look forward to being involved in returning the garden to its intended design, and ensuring its survival for future generations to enjoy. To read more about the Lupton Trust please click here.