Fundraising efforts to restore Church at the heart of Weston-Super-Mare
— 14 Jun 2017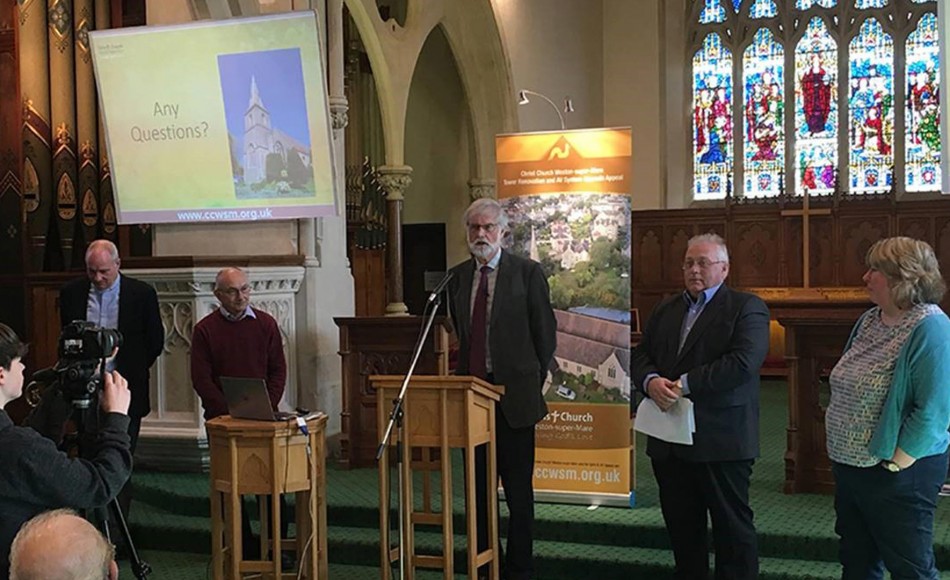 Christ Church in Weston-Super-Mare is appealing for funds for the essential repair and restoration of its spire and tower.
An initial survey carried out by B2 Architects, as well as additional drone and rope surveys carried out by Jonathan Rhind Architects highlighted the crucial work required to maintain the building at the heart of the Somerset community.
Our Senior Architect, Julian Clayton, presented to the congregation of Christ Church last week to help with their fundraising efforts and to explain what work is needed to save the beloved building.
Julian said: "There are essential repairs which need to be carried out in order to restore the building to its former glory, including repointing of the spire, stone repairs, replacing of metalwork and work on the bell frame, which will require specialist expertise. These repairs will see the tower and spire through the next 25-50 years, so the project is an invaluable investment that urgently needs the support of local people and communities."
"Christ Church is truly at the heart of this community, offering space to a selection of groups, clubs and organisations, who run a range of activities for all ages all year round. This is why we believe it is a fantastic project to support."
To carry out all the required repairs and renovations, a total of £323,000 in funding is required, with the Heritage Lottery Fund (HLF) funding up to 70% of this. The Church will be submitting the application for the second round of HLF in June 2017 and they themselves have already raised in excess of £60,000.
The funds will go towards the recommended repairs, as well as a new audio-visual system.
Jonathan Rhind Architects has been appointed as Church Architects for the project, responsible for preparing working drawings, schedules of work and tender documents and hope to be confirmed as the contract administrators and supervising the construction works.
Providing that the funding applications and fundraising runs smoothly, work could start in Autumn this year, with major works likely to start in Spring 2018.
To find out more or to support the Church's fundraising appeal and to view a video of the presentation, visit their appeal web page.
For more information about our work on Church buildings, please visit our projects page.
For more information, do have a look at Christ Church's website: http://www.ccwsm.org.uk/