Going green on the North Devon coast
— 26 Jan 2023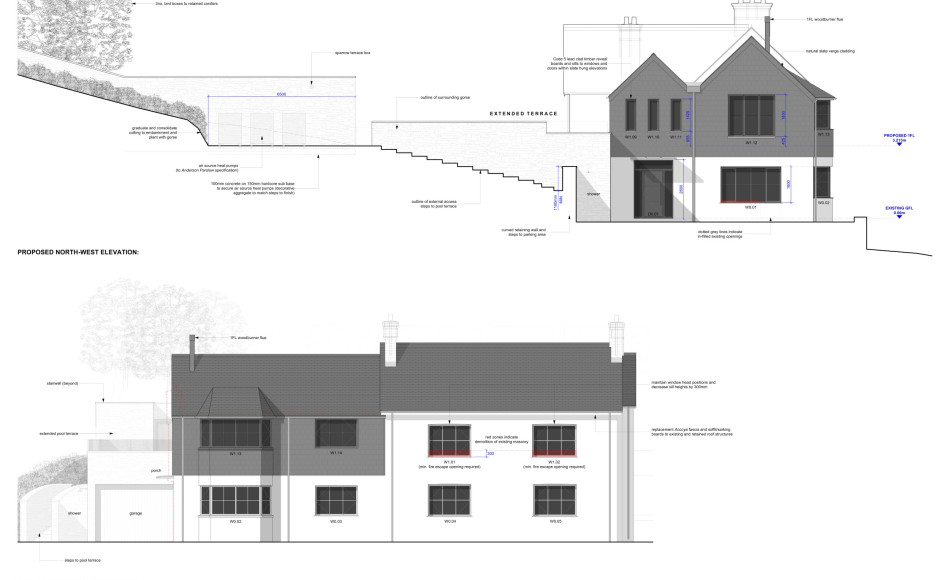 If location is key, this property on the North Devon coast ticks all the boxes. Perched on a wild headland with breathtaking views out to sea, a handful of neighbouring properties, secluded, and within a short walk of the local village amenities, it really couldn't be better.
When the owners wanted to refurbish and enhance the property, such a perfect location comes with its own challenges. Although the late 19th century property is not listed, it sits in an Area of Outstanding Natural Beauty, on the Heritage Coast, in a Marine Conservation area and a Site of Special Scientific Interest. The clients needed an Architect with the specialist knowledge and experience to gain planning permission to upgrade and extend the property to take full advantage of its special location.
Jonathan Rhind Architects advised the clients, drew up plans and secured planning permission in 2021, and having undertaken a tender process to appoint a contractor, work is now well underway.
As well as providing a larger and more up to date property, a key driver for the upgrades was to provide improved energy performance and to enable more sustainable running of the property. To achieve this Jonathan Rhind Architects have specified insulation to exceed building regulations as well as high-performance windows and doors to reduce heat loss. The oil-fired central heating and hot water system has been replaced by three air source heat pumps, powered in part by a hidden array of roof-mounted photovoltaic panels. These measures will reduce non-renewable energy demands and deliver alternative low-carbon energy, whilst electric vehicle charging points will help to future proof the property for ongoing and future needs.
With much of the new extension buried into the steep hillside, the visual impact of the enlarged living spaces is minimal, while the extra space will improve the flow within the property and provide more usable space. Fabric upgrades to the exterior use traditional materials in the local vernacular. Natural slate, rubblestone and the subtle use of glass in balustrades soften the external appearance of the building.
Localised landscaping to the site will protect and enhance habitats for wildlife with native hedgebanks within the coastal scrub on the National Trust owned down.
The main contractor, Heddon Mill Ltd, is progressing well with the works which are complicated by the location – beautiful but hostile – a mere 15 metres from the high-water mark, with salt-water laced winter wind and rain lashing the site.
Location, location, location – a complex mix of stunning views, planning issues and building conditions to negotiate!
The property when finished will be a traditional coastal house with the amenities and luxuries of modern living run in a sustainable way. Jonathan Rhind Architects strongly believe that sustainable energy measures can and should be incorporated into historic properties, and are experienced in facing the challenge of integrating them without compromising the integrity of the heritage fabric.