From house to home: Bath Crescent restoration project featured in House & Garden
— 14 Feb 2018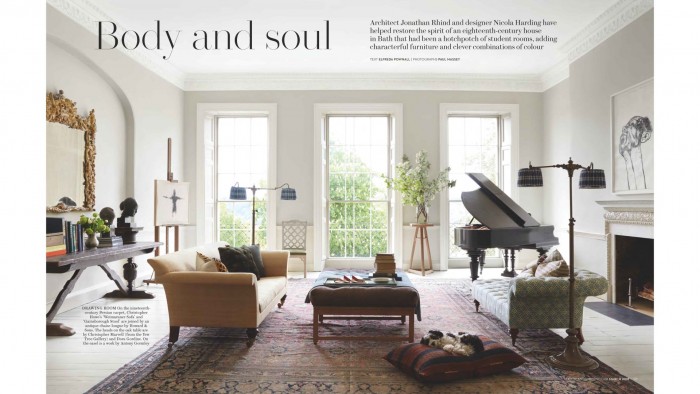 Jonathan Rhind Architects was mentioned in March's House & Garden magazine, in a feature on an eighteenth-century house in Bath.
Company director, Jonathan Rhind, worked closely with the clients Catherine and Nick Gilpin and interior designer Nicola Harding to revitalise the striking Georgian townhouse in the prestigious Bath Crescent, turning it from dilapidated former student accommodation into a spacious and elegant family home.
Work commenced with the removal of partitions and artificial ceilings to reveal the original, spacious room layout and with the restoration the full-height drawing room windows, flooding the space with natural light – a process that, in all, took almost three years.
Commissioned to provide architectural services for the planning, listed building consent and technical aspects of this project, Jonathan Rhind Architects also worked on the repair and cleaning of original features, including:
The elegant elliptical arches linking front and back reception rooms.
The joinery for door, architraves, skirtings and windows to suit the status of different floors in the house.
The limestone floors to the hall and cantilevered staircase.
The cleaning and repair of external stonework to front and rear elevations and forming new lead clad roof dormer windows.
Additionally, the kitchen changed to being a principal room in the house on the ground floor and linked to other main living spaces, including the installation of a unique jib door connecting the kitchen to the pantry.
With an injection of colour chosen by the homeowner and cleverly designed interiors courtesy of Nicola Harding, the result is a classy yet homely family space, that still retains the original proportion and elegance of the grade I listed Georgian building. The empty shell of a house became a home.
With kind permission of House & Garden
Interior & Garden Designer: Nicola Harding
Photography: Paul Massey
Original text: Elfreda Pownall
Read more on our work on Bath Crescent here or, to find out how we can support your project, get in touch with our team.
To read the article in House & Garden online please click here.