Basement extension to Woolsery Manor
— 04 Mar 2021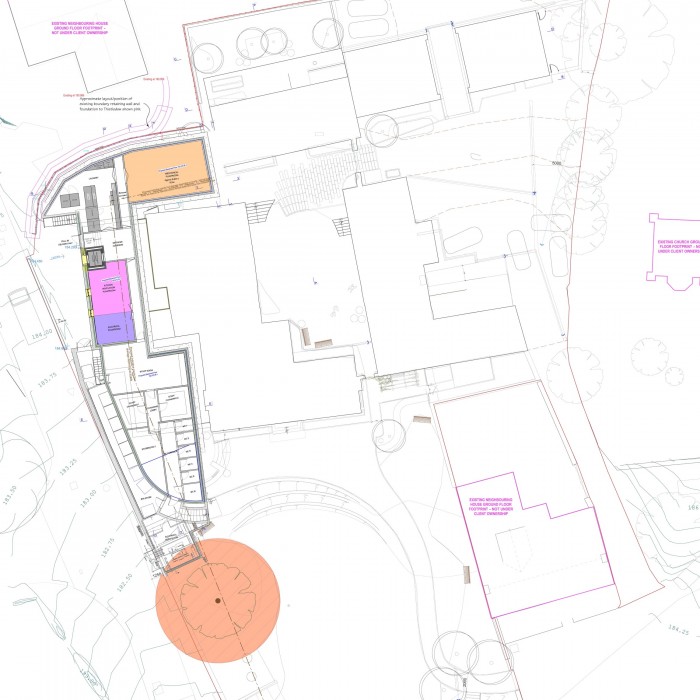 When we last blogged about Woolsery Manor the project had just received planning permission for the conservation and renovation work on the Grade II listed buildings as well as the extensions necessary for a new hotel. Over the last year, the historic fabric of the Manor which had been neglected over a period of years has been sensitively restored by a specialist team of craftsmen. The repaired slate roofs, lime rendered walls, reinstated pillared entrance and new windows have revived this important building, re-establishing its historic grandeur.
To support the running of the Manor as a hotel a large basement has been designed to house the essential services such as staff room, laundry facilities, storage and a large plant room to support the proposed ground source heat pump system. At 350m2 this basement will stretch from street level on the west side of the site to a full storey below ground as it wraps around the side of the Manor. Above ground the new kitchen and orangery restaurant will connect to the Manor on the ground floor, while the remainder of the service block will sit below the garden and terrace.
Piling works are now underway, and Jonathan Rhind Architects' Associate Director, Jonny Poland was on site to see the piling rig in action. The area in which the service basement is being constructed is between the listed Manor house and the neighbouring boundary, and the works have been precisely planned to ensure no adverse effects from the work. When the basement is complete, fit out of the interiors and construction of the above ground extensions will begin.
Keep an eye or blog page for further updates as the project progresses.