Georgian style property taking shape
— 15 Feb 2023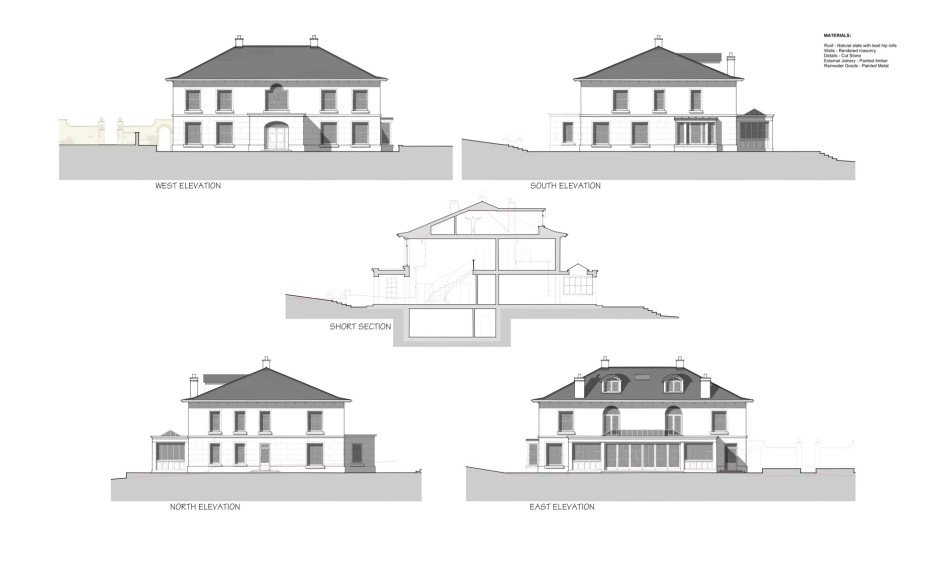 When a local couple wanted to build their dream house in Somerset, they had a pretty clear picture of the house they wanted to build. Their dream was for a contemporary piece of historicism based on a typical Georgian country mansion. This couple approached Jonathan Rhind Architects due to our ability to understand the historical details and to accurately define these for planning and technical designs. They also came to us for our contacts with the best local contractors who can deliver such an ambitious property.
Their dream comes complete with a detached swimming pool in a glazed orangery structure and triple garage with guest house.
The planning process for building a replacement dwelling was handled carefully by our team and proceeded without any hitches.
Having received planning, we prepared technical documents and tendered through a traditional contract and are now administering this contract on site with contractor Anthony Branfield Ltd. We are making good progress and wanted to write this blog to show the initial stages of the build up to roof level.
The build began in April with a 4m deep dig for a reinforced basement for the clients' subterranean games rooms and plant spaces. This was installed by specialist concrete reinforcers Top Form from Plymouth. Waterproofing will be installed by Heritage Preservation.
Following this the ground floor sub structure required pile foundations which were installed by specialist piling contractor Foundation Piling Ltd and block and beam ground floors by Melton Concrete. And then finally the main building structure with concrete plank floors and masonry external walls has been constructed diligently by Dan Fletcher, Anthony Branfield's mason and site manager and his team. At the same time the garage building and site walls have been built in local Purbeck stone.
Whilst all this construction has commenced, our team at Jonathan Rhind Architects has been developing internal details, sanitaryware packages and window packages with the client and our joiner Sean Menzfeld. The house will have stone, marble and limestone floors and tiling by Fired Earth and beautiful kitchens and fitted joinery by specialist Humphrey Munson. The glazed orangery structures for the house and pool are by local specialist joiner David Salisbury.
We are now up to roof level and slating the building where the specialist window openings and some of the vast open plan spaces are starting to shape up and show the form and proportions of the house. We have also begun digging the pool with its steel structure, ready to receive expansive glazing. We have built a fantastic working relationship with the client and contractor and are looking forward to sharing further updates as the building interior starts to take shape as well as the extensive external landscaping in York Stone and local materials.