Designs for Sustainable Farm in Woolsery
— 01 Jun 2022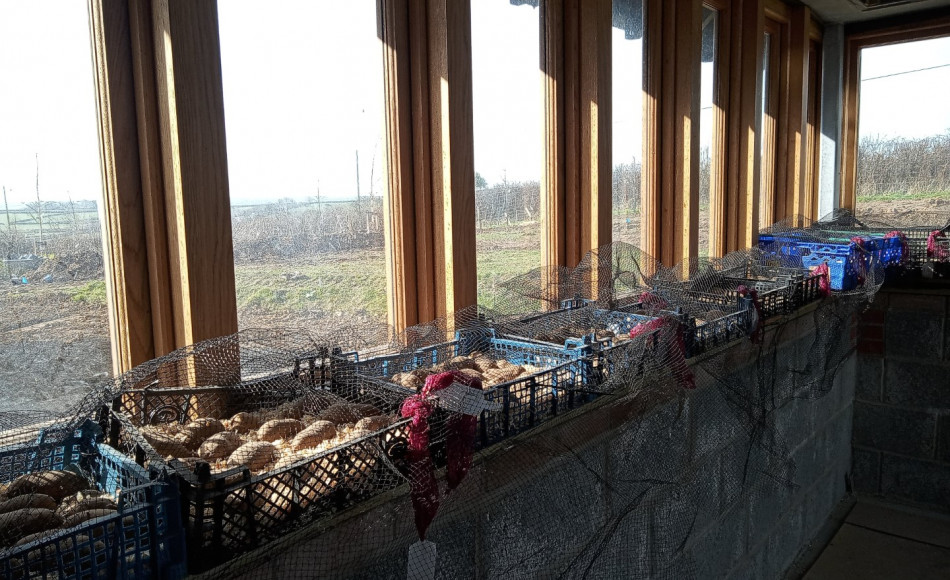 When we last updated you on Birch Farm in Woolsery in January last year, the project was very much in its infancy. Now the Potting shed is nearing completion and the hard landscaping has started to the garden farm.
There are several main intentions shaping the farm project. A key element is to introduce visitors to the clients' ethos and vision for the project and its relationship with the clients' other operations in the village; to provide produce for the Manor, pub and shop with extremely low food miles; and to aim for high standards of sustainability, with chemical-free organic gardening and zero waste management; ultimately improving the local biodiversity of the landscape.
Visitors will be hosted in the garden farm orchard in a 'ruined' octagonal gazebo. The open-sided structure will be constructed from an oak frame with a rubble stone fireplace and wall sheltered beneath a cedar shingle roof. A tour of the farm will take visitors on a network of footpaths; meandering through the orchard, into the meadow and onto a boardwalk above wetlands (part of the sustainable drainage strategy for the area), where native flora will create natural grazing as well as habitat for local species. A living pergola will lead into the crop field, which will be naturally farmed with manures to feed the soil, limited heavy machinery compaction and low numbers of stock. Buffer zones at field edges will create shelter, habitat and provide ecological corridors. A pond will also create opportunities for local wildlife as well as spaces for quiet reflection for visitors. The soft landscaping has been designed by Urquhart & Hunt who have just won best show garden at Chelsea 2022 for their rewilding garden – Devon.
Dining events will be held in the Potting Shed, a combined events and working space, so that visitors can be introduced to the potting and propagation methods used on site. Jonathan Rhind Architects have designed bespoke details to respond to the space's multiple needs.
The building is constructed of rubble stone and brick masonry, slate roofs and timber cladding, windows and doors in the vernacular building tradition of the Devon landscape since the late 18th Century whilst the interiors are contemporary and functional. Planning approval has also been achieved for an agricultural barn and additional animal shed which will also house the farm offices and workshop.
The aim behind the designs is to create working and non-working spaces that are both charming and efficient; for visitors to enjoy whilst also being a productive working farm, with a focus on sustainable, ecologically sound organic methods.
For more information on the other projects in Woolsery village please see our Farmers Arms project page; Woolsery Manor progress blog; and the Woolsery Walking Tour CPD blog.